Add a Parent/Guardian record
To add a parent or a guardian's record, select a student record and click on the Family Info tab. The system will prompt you to add a primary contact as given below:

Click on
+ Add Primary Contact
and fill out the form.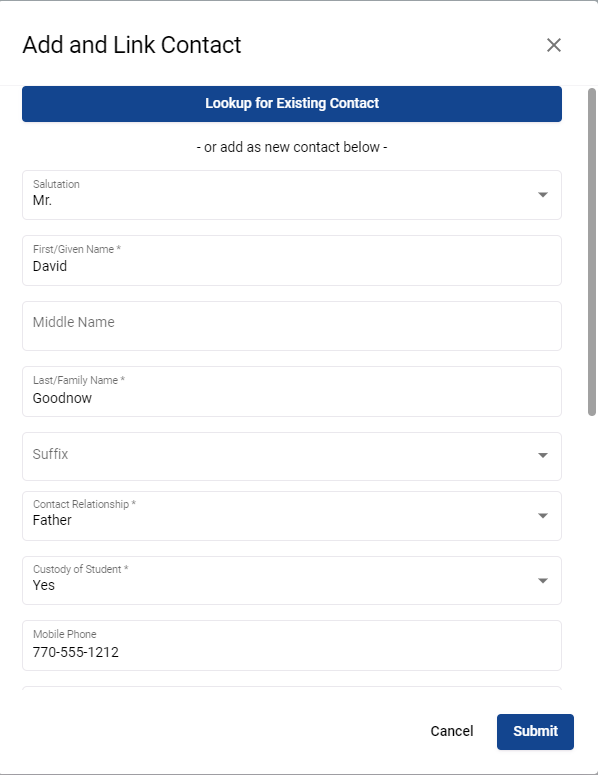 When you select the Custody of the student to 'Yes' the system will show you an icon denoting that the parent has custody. If a parent is entered with no custody, then the system will not allow that parent to view the student's address information.

By checking Portal Access toggle switch to yes, you can allow the parent to login to the parent portal. You can send an email invitation to set a password for the portal.
You can also link an existing parent with a student. Click on the + Primary Contact or the + Add Other Contact button and on the form, you will be able to enter key identifiers to search and link a user as a parent.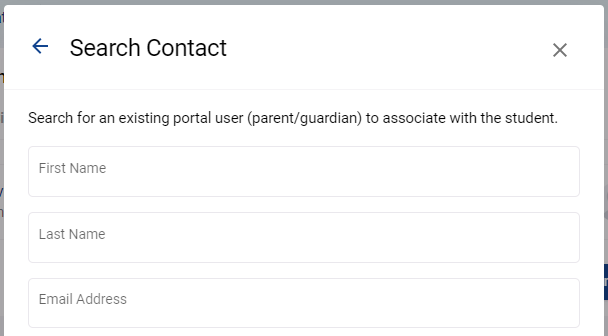 Related Articles

View and impersonate a Parent

An administrator can click on the Parents menu on the sidebar and view a list of parents in the system. Clicking on the name of the parent will display the parent record. Clicking on the first icon under the Actions column will allow the ...

Add a Staff record

In openSIS, an Administrator can add a Staff record by clicking on the + sign of the "quick create" feature at the upper right corner of the screen. You can also navigate to Menu >> Staff >> Staff List, and create staff by clicking on '+ Add New ...

Add Student General Information

New students can be added in three ways in openSIS. 1. From Dashboard by clicking ' + icon' from the top-right corner. 2. Clicking on the '+ Add New' button on top of the student list view 3. Clicking on the drop-down arrow key of the +Add New button ...

Add a School

Add New School After logging in to openSIS you can create a new school. Click on the '+' button on the top right corner of the page Here you will find options to create a new school, new student, new staff, a new event in the calendar, and notices ...

How to Add/Edit Historical Grades and Historical Marking Periods

Login as an administrator and navigate to Grades >> Administration In this area of the system, there are two major functionalities. One is to Edit Report Card Grades received by students and the other is to Add/Edit Historical Grades. Click on the ...