Teacher portal dashboard at a glance
This is the dashboard that you will see as a teacher when you log in. Before we start to navigate the dashboard let's start with the header.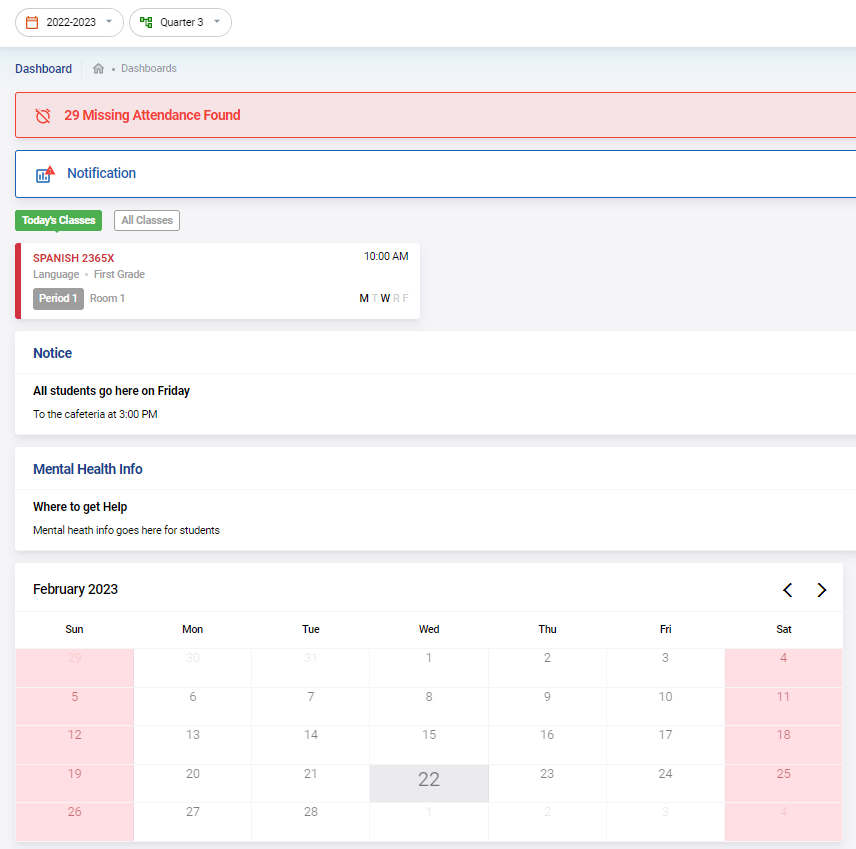 In the header you will find the School Year that you can change according to the year you want to work with, and the Marking Period. Make sure you are on the correct marking period so that the class operations are recorded correctly.
On the right-hand side, you will see your Profile image and when clicked it will give you these three options:
My account

Change password

Logout option
In the middle section of the screen, the following will be displayed:
On the very top of the dashboard yo will see missing attendance notifications if you have any.
Below that is a notification bar that signifies that you have ungraded assignments.
Your classes will be listed as rectangular cards and will show today's classes first. You can click on all classes to see the classes you are scheduled. Clicking on any class card will take you to the class details.

If the school has any notices to display, it will show on your dashboard.

Mental health information is also displayed prominently on the dashboard.

Lastly the school calendar will be displayed. If there are events scheduled for the month, it will be displayed on the calendar as dots and mousing over will show the details.
Related Articles

Navigation through teacher portal dashboard

This is the dashboard a teacher will view first when they log in. From the top on the right hand side, you can find the Help button for any assistance you may need. Next, if you have any missing attendances from any course you will be able to see a ...

How to view school Noticeboard as a teacher

A Teacher can view school noticeboard set by the Administrator by navigating through Menu >> School >> Notices or Dashboard >> Notification You can use the current, upcoming, and past tab to see the respective notices.

How a teacher can view the Mental Health Info.

The Mental Health Info section is present just below the Notice created by the Administrator and will be present on the dashboard.

How a teacher can take missing attendance in a course

A teacher can take missing attendance by navigating to: Dashboard >> Click on missing attendance >> Attendance Click on the missing attendance notification, you will be redirected to the missing attendance page where you can take missing attendance ...

How a teacher can take attendance

As a teacher, you can take attendance by navigating to: Course >> My Class >> Class >> Attendance On the page, you can click on one of the classes to see the details. On the page choose the date that has the courses scheduled. If the date is not ...